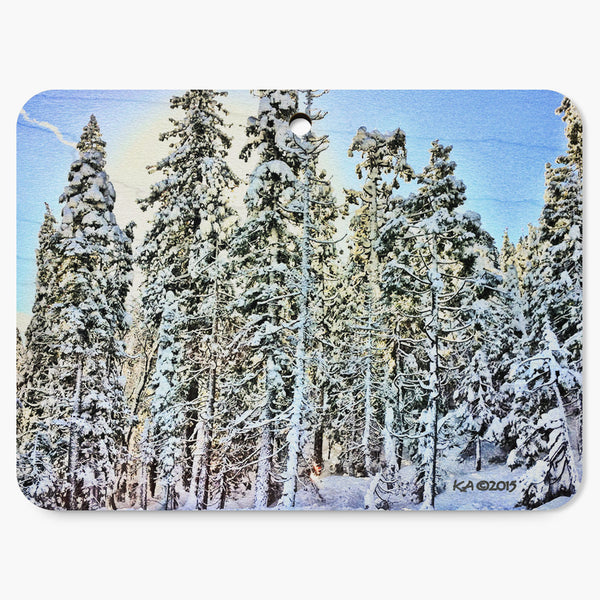 Striking Ornament
Location:  Lake Tahoe,  CA
Artist:  Katie Archbold Andrs,  virtual assistant that specializes in working with soulful and artistic entrepreneurs.   Grew up in SoCal, lived in NYC and Argentina and currently calls San Francisco home.   Has a performing arts background as a singer and dancer.   Is a mix of right and left brained:  a creative soul who loves spreadsheets and organizing her closet.   Her key to life,  "Follow your Bliss"  by Joseph Campbell.
Made with 💛:  Hand-Crafted with Mother Nature.   Every piece whispers a story.  
Connection Made Simple™
Size:  3"x 4" x 1/4"
Quality:  Born and Made in the USA.   FCS certified and 100% recycled wood source.  
Sustainable:  We make them strong (1/4" thick) so that they can be re-used forever.   Made with sustainable inks and a UV coating that protects the image.  Tied with burlap twine in a loop for easy hanging.
Every piece is made to order, making each one uniquely yours!
We offer FREE SHIPPING on all domestic Standard Shipping (USPS Priority Mail) with orders over $25.00! 
Please be sure to select "free shipping" at Check Out if you qualify.
Please allow for 5-7 business days for your items to be processed and shipped out to you.
If you need EXPRESS shipping, we will happily do that too, but please note that extra charges will be applicable. 
Please select "express mail shipping" at Check Out.
Please allow for 1-3 business days for your items to be processed and shipped out to you.
For all Custom and Personalized orders, please allow for an extra 2-3 business days on the above stated time frames.  Thank you!