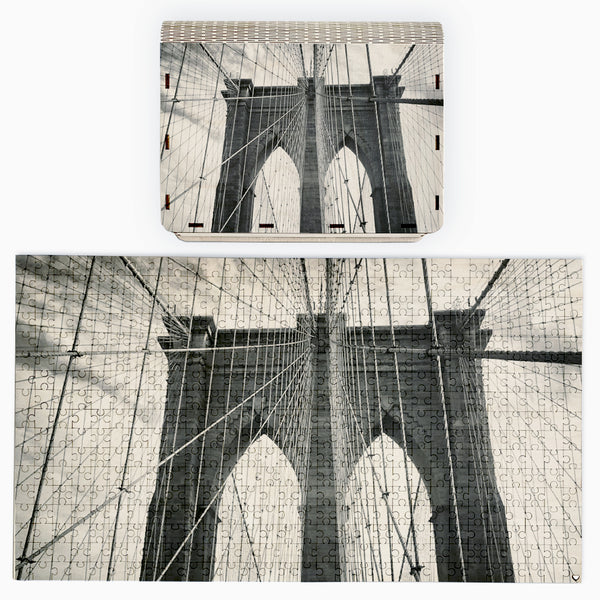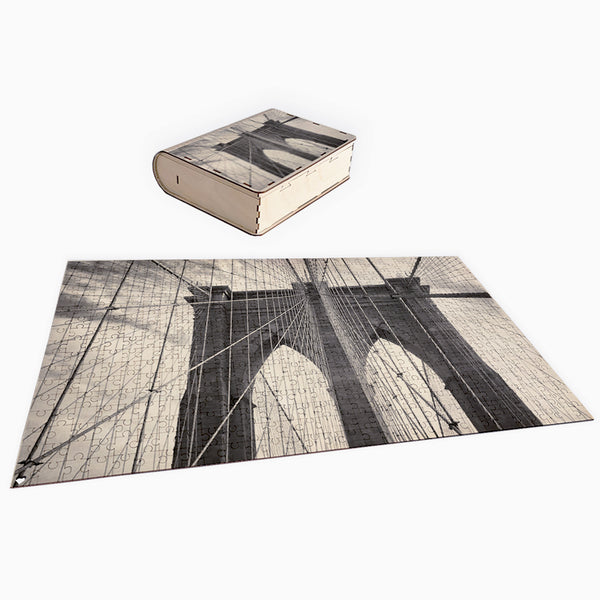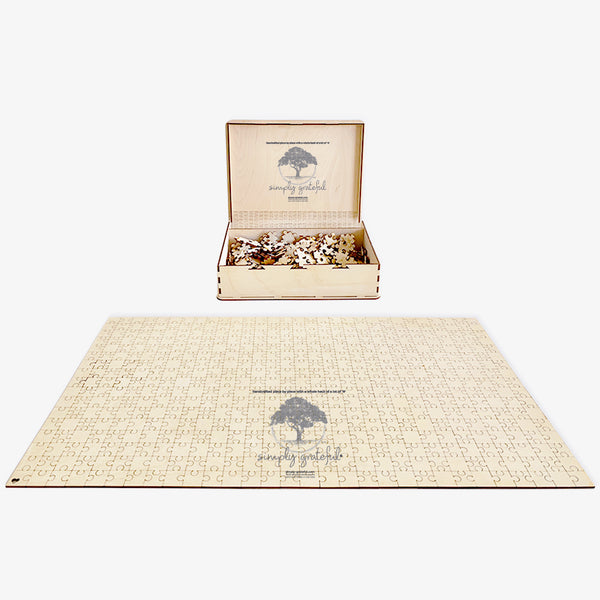 Defined 500 Piece Puzzle
Location:  Brooklyn Bridge,  New York City,  NY
Artist:  Dean Zulich,  commercial photographer based in Downtown Los Angeles,  native of Bosnia and Herzegovina and has been residing in the United States since 1995.   Diehard Seattle Seahawks fan and been described as Keyser Soze,  Jesus and Elvis rolled into one.    
Made with 💛:  Hand-Crafted with Mother Nature.   Every piece whispers a story.  
Connection Made SimpleTM
Size:  22" x 13" x 1/8" (500 Pieces) with a Custom Wooden Box
Quality:  Born and Made in the USA.   FCS certified and 100% recycled wood source.  
Sustainable:  We make them strong (1/8" thick) so that they can be re-used forever.   Made with sustainable inks and a UV coating,  as well as,  an eco-friendly lacquer that covers the entire puzzle (they can even be used as coasters) to permanently protect the wood.
Care:  Washable with soap and water.
Every piece is made to order, making each one uniquely yours!
We offer FREE SHIPPING on all domestic Standard Shipping (USPS Priority Mail) with orders over $25.00! 
Please be sure to select "free shipping" at Check Out if you qualify.
Please allow for 5-7 business days for your items to be processed and shipped out to you.
If you need EXPRESS shipping, we will happily do that too, but please note that extra charges will be applicable. 
Please select "express mail shipping" at Check Out.
Please allow for 1-3 business days for your items to be processed and shipped out to you.
For all Custom and Personalized orders, please allow for an extra 2-3 business days on the above stated time frames.  Thank you!